Pop is the new trend. Adding one to your home will accent the decor and beautify any setting.
Bold Walls
Experiment on your walls without spending much. Paint one wall in a bold hue and let the drama happen. Wall papers in eye-catchy patterns will speak volumes about your creative aesthetics. You can turn your walls into a piece of art with natural stone cladding resonating earthy warmth.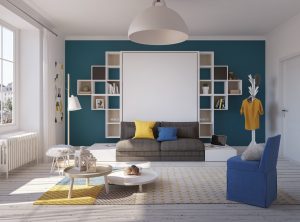 Quirky Chunks
Little accessories like candles, decorative statues, lamps, wall arts and statement trays make it easy to add pop in your living space without disturbing the décor. Neutral colour schemes on walls help to highlight the colour burst happening in the area. Hanging a bright painting can do wonders in elevating the mood of the walls.
Eccentric Linens
An easy way to introduce vibrant colours in your home is through linens. Cushions and throws in fun and poppy colours can pull off a fun look for your living room. An accent curtain immersed in bold prints will scatter just the right amount of colour balance. Add layers of solid cushion covers on your sofa to create an eclectic zone or mix and match prints that personify the current season.
Statement Elements
Bring in a streak of pop through statement furniture pieces painted in unconventional hues. Add a piece and you are done!
Research: Arnavi Sharma, Impressions: Arshmeet Kaur