www.huz.name
Not having a yard certainly doesn't mean that you can't have a balcony garden. Balcony gardens can be intimate, manageable, useful, and absolutely stunning. These handy tips for creating an outdoor, verdant space will ensure that you are buying and growing plants that are suited to various seasons. Look no further than your local plant shop – they won't stock anything that won't survive in local weather conditions. Make sure that you are purchasing plants that are intended to go outside later. Keep a few things in mind – like what kind of light does your space get and how many hours in a day? Is your balcony windy or sheltered? Is it too shady? The answers to these questions will narrow down the specific types of plants that will happily stay put in your balcony garden.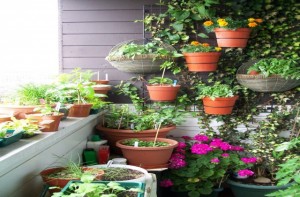 www.bramuenhome.com
A few pieces of advice…
* Use a high-quality organic potting soil and augment it with compost
* Clustering pots makes it easier to water plants efficiently. Most containers will dry out and need water every day; during a heat wave, water twice a day
* Herbs are the easiest edibles to grow in containers.
* If your balcony is sturdy enough to support the weight, cover the floor with filter fabric and a shallow layer of gravel so plants can self-sow and naturalise.
* Vines and fast-growing climbers are good for a small space because they will lend vertical interest quickly.