Conveying the various elements of the cosmos, as per Vaastu, this impeccably designed home is a remarkable new addition to the world of design.
An apartment located on the 9th floor of a city building and a client brief that called for a strong consideration of Vaastu beliefs, is what Shilpa Jain Balvally and Sameer Balvally of Studio Osmosis walked into when this BKC Residence project in Mumbai came to them. The client was certain that they wanted a décor style that was minimalistic and contemporary and yet exudes exquisite class.
The residence came with Bottochino marble flooring and well-designed bathrooms, and hence the furniture, upholstery and colours were the areas where the studio stepped in with their expertise. The apartment itself consisted of a large living room at the centre and two bedrooms on either side of it. the entrance to the apartment is in the east direction and is given a minimal style lobby.
The living room is designed along similar lines, with concrete finished shelves that are held together with thin metal framework giving a sense of weightlessness to the space. And ultimately this outer-space based setting opens out into a lush green balcony and inviting outdoor furniture that gives it a cosy feel.
The master bedroom, being of Vaastu's earth realm has a distinct look. Dark grey colour has been incorporated, which serve both the Vaastu requirements and the client's personal taste alike. However, soft furnishings are used to add some softness to the look simultaneously. A dominant four-poster bed stands tall amongst grey panelled walls.
The workroom belongs to the water realm, as per Vaastu, and hence blue was chosen as the dominant colour for this space. A fluid screen is additionally selected with the study table, which gives the distinct impression of the fluid movements of water.
The media room is kept minimal with dark acoustic wallpaper, a bar and an ochre accent sofa, while the guest room is noticeably designed to be light and cheerful like the first rays of the morning sun.
The project was an interesting challenge for Shilpa and Sameer due to the need to work around the mood and colour hues, as these were the foundation for the design philosophy of the house. They had to work backwards, by working the finer details first and then looking at the larger picture collectively.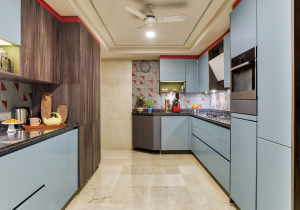 It is a true marker of the success of the design plan that as a person moves from one room to the other, they find themselves undeniably immersed in areas which have a story to tell; a story of their remarkable existence in the cosmic whole.
Images: Pulkit Sehgal